Welcome to A Little Help Home Care !
Nothing is more important than helping people to live full, independent and dignified lives within the comfort of their own home. A Little Help Home Care is dedicated to providing the kind of non-medical in-home care that helps enrich lives and maintain the highest possible level of independent living. We offer an extensive range of non-medical care services tailored to the unique needs of each individual we serve.

A Little Help Home Care is an available resource for questions and concerns that may arise regarding the care of your loved one. Our caring and compassionate staff can assist you with preparing for your loved ones return home from a hospital or rehab facility and once home can provide the assistance that is necessary to ensure their safety and their personal well being; or perhaps your loved one just needs that little bit of additional care to keep them independent at home.

Home care is not just for the elderly. Surgical patient hospital stays are decreasing in length, which creates a short-term need for patients who are recovering at home. Whatever the home care need,
A Little Help Home Care can keep you or your loved one safe and comfortable at home.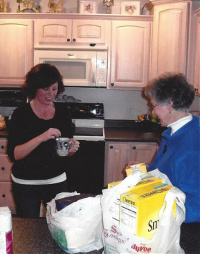 They say home is where the heart is. We understand how painful it is to leave your home or to seek assistance and care. We offer a variety of services to help you or your loved one enjoy the quality care they need at home.

Our selected caregivers will come to your home to help with anything from bathing and dressing, to meal preparation and light housekeeping. But mostly, we bring a ray of sunshine into our clients day, and a sense of comfort to their families.

Our caregivers are insured and bonded.

Our mission

To provide, with passion, the highest quality of help to individuals, which will enable them to live with fullness of life in their homes.

If you or a loved one just needs a "little help" you can be sure to get the help you need, at a price that is fair, and by individuals who truly care about what they do for others. Choose "A Little Help Home Care" and see what a great difference "a little help" can make in your life. Contact us


"A Little Help Home Care"
367 15th St. SW
Le Mars, IA 51031
712-546-4950
alittlehelphomecare@gmail.com